You can now register a .com.au domain for just A$99
Domain Registration: .au 2 years
Domain
$AU (inc GST)
$US
.com.au
$99.00
$54.50
.net.au
$99.00
$54.50
.org.au
$59.00
$33.00
.asn.au
$63.00
$36.00
.id.au
$69.00
$38.00
Domain Registration: .com .net .org .biz .info .us .uk
Period- Years
$AU (inc GST)
$US
1
$44.00
$18.00
2
$84.70
$35.00
3
$121.00
$50.00
4
$158.40
$65.00
5
$194.70
$80.00
6
$232.10
$95.00
7
$268.40
$110.00
8
$304.70
$125.00
9
$342.10
$140.00
10
$374.00
$155.00
.AU Domains for Registration in Australia:

.com.au or .net.au for Australian commercial company

.asn.au is used for an Association

.org.au is for organizations

.id.au for individuals
Our Price is A$99
, a discount of $40 for a 2 year .AU Registration.
Currently there are many types of Top Level names you can register and these vary by the last letters after the 'dot'.

.com is the most common and signifies a company

.net is used for a network

.org is meant to be used by an organization

.biz is the new domain name for business sites

.info is the new domain name for information sites
Our Price
works out
A$34.70/ year over a 10 year Domain registration period.
Domain Names Explained
Domain Registration Agreement
Check Name Availability

Why Register?
If you're serious about eCommerce, and plan to have a highly successful website, then you should register your own domain. A Domain Name becomes your BRAND name on the Internet. - choose a name that is easy to remember and type in.
You can register as many versions of your domain as you wish. As well as yourname.com, also register yourname.net and yourname.org. Then you can register different spellings of the name, hyphenated forms and so on. If you don't register these, someone else will take them and the corresponding share of misguided traffic!
Do not register a name which is someone else's Trade Mark. If your domain name infringes on other party's registered Trade Mark, you could be sued for infringement!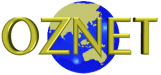 If you have a registered domain we will host it for you at the lowest possible cost.

Our Domain Hosting service can accommodate .COM.AU & .NET.AU domains, as well as all other foreign NIC Registrations like yourname.co.uk etc.
Registration prices in Australian $ unless specified otherwise.
---
Oznet Internet Services Pty Ltd.
International & Australian Registration
Sydney, Australia
Phone: 0425 286 233
Fax: (+61 2) 9318 0475
E-mail:

OZNET® is a Registered Trademarks of Oznet Internet Services Pty Ltd, ABN 66091971587
All Rights Reserved.