---
Internet Access
Australia-wide 99.90% coverage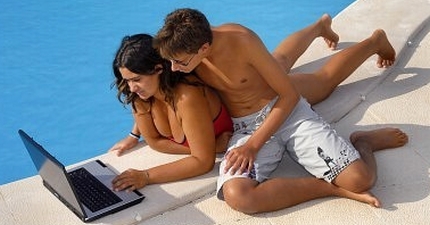 Mobile BroadBand
What is Mobile BroadBand Internet?
Oznet Mobile Broadband is simply wireless internet access, letting you work when you want over the Optus mobile phone network in Australia1. It's convenient and portable, and you don't need a fixed land line to obtain Broadband Internet access.
How does Mobile Internet Work?
It uses the same technology as your mobile phone, except instead of making a voice call from your mobile you are making a data connection from your computer to the Internet within Australia. You get all the benefits of regular ADSL Broadband, plus the benefit of wireless mobility.
Broadband downloads are typically 300kbps – 3Mbps within major metropolitan areas. Slower download speeds are generally experienced in regional areas of typically 300kbps – 1.5Mbps.*

* Actual speeds achieved vary due to factors such as congestion, user numbers, local conditions, hardware, software, download source and general internet traffic. We utilise the Optus BroadBand Network.
Mobile BroadBand Monthly Plans
1GB Download $25 per month
3GB Download $35 per month
5GB Download $45 per month
6GB Download $50 per month
Excess data usage 10c/MB
Change Your Plan - $10, effective next month
Static IP - $15
Modem & SIM $169
SIM Only - $25.00 (any optus modem works)
30 days notice required to terminate the service. Billed monthly in advance.
SureDial® is a Registered Trademark of Oznet Internet Services.
Here are the main reasons why you should connect with Oznet:
Australia-wide 99.9% coverage, use it when you travel- Sydney, Melbourne, Brisbane, Adelaide, Perth, Bathurst, Campbelltown, Gold Coast, Gosford, Penrith, Newcastle and more..

Flexible packages to suit your exact requirements.

No ISP Set-up charge.

Comprehensive Business Services including Frame Relay, ISDN & ADSL and Private Networks..

All your Internet needs, access, hosting, domain registration, web-site design, from one reliable source.

No lengthy ISP contract obligations.

Friendly service & support.
SureDial ® Dial-up
Unlimited Download, Unlimited time
Due to popular demand, we offer this service for Sydney ISP subscribers only on a separate backbone. With a generous session limit of 4 hours and a high modem to user ratio this service offers exceptional value. Surf and download as much as you can for a flat fee of $25 per month hassle free.

Standard V90 56k Dial-up Unlimited time & Download
$25/month, available only for Sydney ISP Subscribers
Click here Secure Order and get a SureDial ® connection right now.
---
---
Oznet IT & Media Services
ISP connection Australia wide
ABN 71 739 229 715
Sydney, Australia
Phone: 0425 286 233
E-mail:


© 1999- 2021 All Rights Reserved.
---
Oznet® is a registered Trademark of Oznet Internet Services Pty Ltd.
SureDial ® is a Registered Trademark of Oznet Internet Services Pty Ltd.